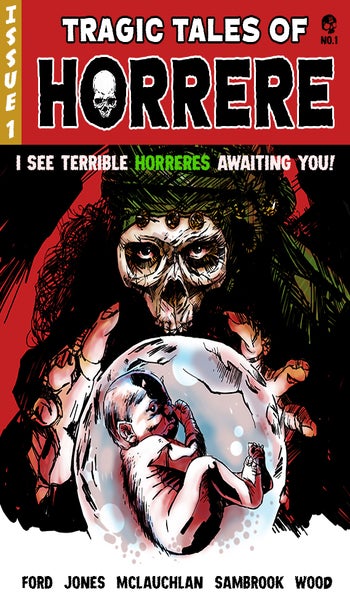 COVER ART By Alisdair Wood.
For all you horror aficionados out there, I thought I'd announce a comic I have co-written and lettered. This sucker will be available at Thoughtbubble In November! If you head to the website at the end, there's a preview of each comic on there as well!
From Little O Productions and Madius Comics comes "Horrere" #01… A British Horror Anthology which looks to scare the wits right out of you. From the warped and twisted minds of Alisdair Wood, Rob Jones and Mike Sambrook come four tales of terror, creepiness and intrigue, as with the help of art shamans Neil Ford, Al McLauchlan, Gareth Sleightholme and Ian McQue, they look to take you on a terrifying journey into parts unknown.
Inside this necronomicon of new wave horror we have four stories to bend your mind…
"If you go down to the woods today" Written by Jones/Sambrook and with art by Neil Ford, we see what happens when a child comes face to face with the Bigfoot. In "the Aufhoecker", we follow a professor who may be walking into his final class. In "You are what you eat" we finally answer the question of how do zombies taste & finally, in the first part of an ongoing story, we take you into the world of "Grimoire" as we follow Melissa Finnigan in the search for her father's killer. Along with the help of Detective Ben Morton, Fin and Ben will discover a world they never thought existed and will find themselves plunged into a tale of abject…HORRERE…
From the minds of Jones/Sambrook, the writers of Madius Comics' Papercuts and Inkstains, Ramlock Investigates and other absurdities and Alisdair Wood, creator of Beagle, and featuring the artistic talents of Sleightholme, Ford, McLauchlan and McQue; Horrere is a slice of classic British Horror Comics straight from the mortuary table. Horrere is a joint production between Little O Productions and Madius Comics.
Horrere Issue #01 is available from November 14th at Thoughtbubble Sequential Arts Festival in Leeds and after that, you can purchase copies from http://www.horrere.zone/
You can also find us on Twitter @HorrereComic and via Facebook at the following link: